Jeff Brown
Pottery
NEW POTTERY FOR SALE ONLINE
www.jeffbrownpottery.etsy.com
Buy Handmade and support your favorite artist & craftsmen

---
New Sake Bottle & Guinomi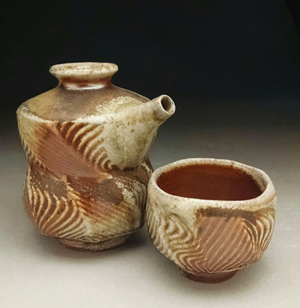 The time you want to spend on your pottery lesson at our studio is up to you. 2 hours is a good comfortable amount of time to learn the basics and the have some time to try making more that one pot. We will glaze a fire a pot for each of you, and you can come pick it up later, or you can pay to have it shipped to you
Michele Hastings & Jeff Brown Pottery Seagrove Potters Spring Studio Tour
Join us as we celebrate our 6th year in Seagrove, NC
---
---
..Visit http://www.gypsypotters.net, for all of the latest happenings around the
Gypsy Potters camp...

Our Studio is on Pottery Highway 705...
right next to the Whynot town sign.

The Seagrove area has been home to potters for centuries...
Seagrove Area Potters , has a website with more info..

I now have a blog at
jeffbrownpottery.blogspot.com
Please follow my blog to see what's happening...better yet go to Meeshspotter.blogspot.com Michele has been keeping up with our week to week events much better than I have.
you can also
follow me on the
Jeff Brown Pottery facebook page


---
Welcome! If you have any questions about my pottery, or workshops and classes please write, or call. If you see anything that you are interested in , email me and I will let you know if it is available to ship right away, or if it will need to be made-to-order.

The controlled chaos of the woodfiring process enhances the surfaces of my pottery in a way that I cannot do in the glazing process alone. Imagining how flame and ash leave their mark on my work, caressing the textures as they wrap around the forms, affects the way I think of my work in the studio. Before I used wood firing I was less concerned about the firing process. Now it is just as important as the forms and textures I use.

My latest work represents an effort to reach beyond the basics of strictly functional pottery. My pottery is functional, wheel thrown, altered, and textured stoneware and porcelain which is decorated with geometric designs impressed, and carved into the soft clay.

In the gallery section of my website you will find; ash glazed pottery, wood fired stoneware, porcelain, and a variety of glaze colors.

I offer workshops and classes at my studio in Wheel throwing, altering and texturing, glazing, wood firing, and Raku firing.

We accepting PayPal and CreditCards

Our Gallery hours are:
Mon.-Tues.-Thurs.-Fri.-Sat.
10am-6pm (most weeks)
Sunday...12pm-5pm

Wednesday...By chance or appointment.
(but we are usually here)
Please call me at 336-873-1001,
If you would like to come to the gallery
at a time we are not regularly open.
I will be happy to open for you.


Throwing large
YouTube Video

---

Hope to hear from you soon...