Jeff Brown Pottery
Guinomi
(Sake cup / Shot cup)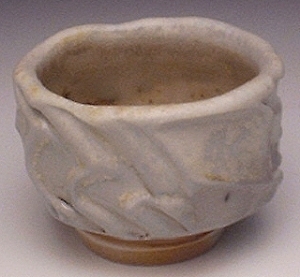 Faceted Guinomi:
Woodfired porcelain
Height: 1.75 inches / Width: 2.25 inches
(4.5cm / 6cm)
Price: $50.00
Item# GP1
These sake cups were woodfired for 6 days in an anagama. The anagama is an ancient tunnel shaped Japanese kiln design that is typically built into the side of a hill. This kiln design is partially buried in the ground supported by the earth on three sides. The exposed front of the kiln is the point where the fire is fueled by constant stoking of wood by a crew of potters, 24 hours a day, during the 5 to 10 days of constant stoking. One week later, the unglazed pottery comes out of the kiln with a natural ash glaze coating with rich variations of textures and warm earthtone colors on each pieces.

GS1


GS2 SOLD

GP2
SOLD

GP3
SOLD

GP4

GP5



GS3SOLD